Fit Foodie 5K Race Weekend -
Fairfax, VA
Love to Run.Eat.Drink? Join the most delicious 5K Race Weekend ever! Cooking Light & Health's the Fit Foodie 5K Race Weekend is jam-packed with celebrity dinners, a 5K run, celebrity chefs, a Power Systems fitness bootcamp, yoga demonstrations, tons of amazing giveaways, and more!
Mosaic . June 20 – 22
Power Systems Fitness Stage
Join us in the post-race Finisher's Village at the Power Systems Fitness Stage and experience Tube Time! Join Nike Elite Fitness Trainer Patrick Goudeau for this total body, totally tubular workout that will challenge you from head to toe! This 20-minute workout can be done just about anywhere, whether you're at home or on the road. Come join the fun and get some new exercise ideas! You'll get to keep the tubing and the best part: you can never have an excuse to miss a workout, ever again!
Cooking Light Culinary Stage
Join Chef Anna Bullett, MS RD, at the Cooking Light Culinary Stage where she will be serving up delicious recipes including Seared Beef Sirloin with Summer Vegetable Salad and Four-Herb Green Goddess Dressing, Chipotle Pork Tacos with Pico de Gallo, and a custom Cooking Light Blueberry-Passion Fruit Smoothie. Being a Fit Foodie never tasted so good!
COURSE MAP
Location: Strawberry Park (Mosaic District)
Strawberry Lane
Fairfax, VA 22031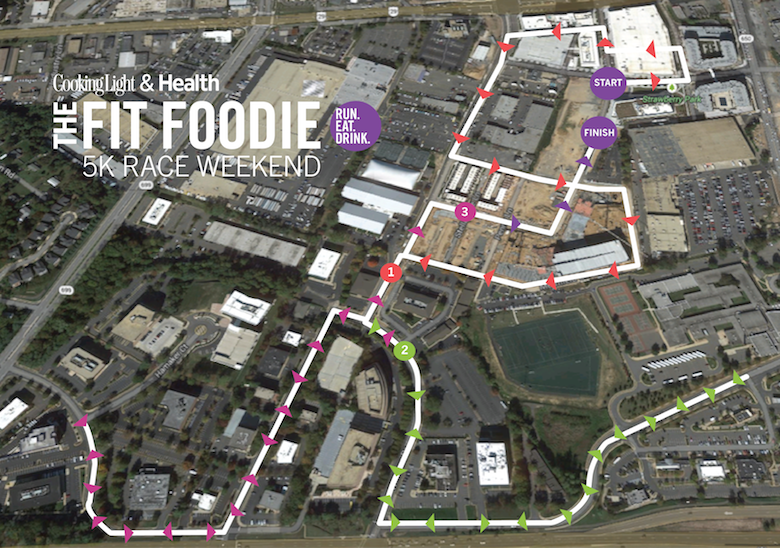 Packet Pick Up
Sponsored by New Balance Fairfax
2905 District Avenue, Suite 105
703-382-3411

Date & Time: Friday, June 20, 4:00pm - 7:00pm (New Balance Fairfax)

Saturday, June 21, 7:00am - 8:30am (Onsite at Strawberry Park)

New Balance Fairfax is located at Glass Alley and District Avenue within the Mosaic District.

Please be prepared to show your photo I.D. After you receive your bib number, you will be given your race packet and t-shirt (if purchased).

For entrance into the Finisher's Village beer and wine garden, check-in onsite (Strawberry Park registration area) with your photo I.D. to receive your age verification credentials.
FREQUENTLY ASKED QUESTIONS
Find out everything you need to know
How do I register? – You can register for any of the Fit Foodie Weekend events by clicking the "Sign Me Up" button above.

Can I sign up on race day? – Yes. You can register on-site the morning of the race at the Check-In table as long as the event has not sold out. The cost to register on race day is $65.

What does my registration include? – Your registration includes entry into the Fit Foodie 5K, virtual goodie bag, and access to the Finisher's Village Experience.

What happens if it rains? – All Fit Foodie Weekend events are RAIN OR SHINE! We won't let a little weather slow us down.

How do I form a team? – Grab your friends and form a team by clicking on the "Form A Team" button above.

What is in the Finisher's Village? - At the Finisher's Village, you'll take part in a post-event celebration where you can enjoy refuel stations, the Love DC Chefs Experience, Chef demos, fitness demos, beer and wine tastings, giveaways, and delicious bites from participating restaurants and sponsors, and more!

Do you give out medals? – Yes! Medals will be awarded to the top participants in each age category.

• 10 or younger
• 11-15
• 16-19
• 20-29
• 30-39
• 40-49
• 50-59
• 60-69
• 70+

Are T-Shirts included? – T-Shirts are not included but can be purchased when you register online. T-Shirts will also be available at the product tent on race day. A portion of proceeds from t-shirt sales will go towards benefiting City of Hope, the Official Charity of the Fit Foodie 5K Race Weekend.

Can my family come and watch? – Yes! If you are cheering on a friend or family member at the Fit Foodie 5K you can still take part in all the Finisher's Village has to offer, including the Love DC Chefs Experience. The Love DC Chefs Experience is for the ultimate foodie inside all of us and will feature first-class culinary stars from DC who will create an incredible foodie experience, and also grants access to beer, wine and product samples within the Finisher's Village. The cost to experience the Finisher's Village is $35.

How do I get to the race? – See below for directions & parking information.

Will this event be timed? – Yes. This event will be timed by DC Timing. Results will be printed, posted, and updated throughout the event. Results and times will also be available online post-event.

Is there an age requirement to participate? – No. There is no age requirement to participate in The Fit Foodie 5K, however the beer and wine garden in the Finisher's Village is 21+. No children, strollers or infants will be admitted to the beer and wine garden.

Can I register my friends? – No. We have waivers that each participant must agree to at the time of registration. You can, however, start a team for you and your friends that they can join anytime.

Is there a time limit to finish the course? – No. There is no time limit to finish the course.

Are strollers allowed? – Yes.

Are pets ok? – Yes!

Can I get a refund? – No. The Fit Foodie will not refund race registrations for any reason. The race will take place rain or shine! You may, however, purchase race insurance through Active at the time of your registration.

Who do I contact if I have a question? – Should you have any questions, please contact Fit Foodie HQ at 619-312-1212.


DIRECTIONS & PARKING
Find us on race day
From North:
Start on I495 South
Take exit 50A for Fairfax
Stay right & take the ramp to Gallows Road Merrifield
Turn left (west) on Strawberry Lane


From South:
Start on I495 North
Take exit 50A for Fairfax
Stay right & take the ramp to Gallows Road Merrifield
Turn left (west) on Strawberry Lane


Via Metro:
Dunn Loring-Merrifield Metro Station
Orange Line
Strawberry Park is within walking distance (0.8 mi) of the Dunn Loring-Merrifield Metro Station

Parking:
Ample parking is available at the Mosaic District Shopping Center.
HOST HOTEL
HYATT House Falls Church
8296 Glass Alley
Fairfax, VA 22031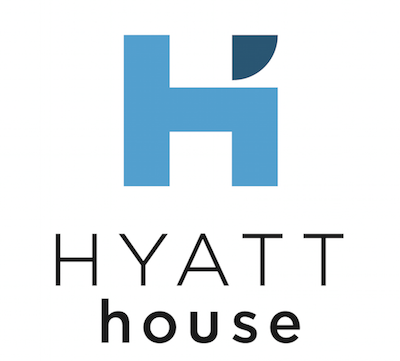 A great find among Northern Virginia hotels, HYATT house Falls Church/Merrifield is a key anchor to the newly developed Mosaic District, an upscale urban go-to for shopping, dining and entertainment. We are only 10 miles from the hustle and bustle of downtown Washington D.C., in close proximity to all of the major airports, roads and highways, and a short walk to the Dunn-Loring Metro stop. To the generous welcome that makes our house a Hyatt, and the spaces and places that make our guests feel more like residents. Relax in your suite or come down to enjoy our comfy spaces and inviting places that let your real-life routines roll on. At HYATT house, you're more than just a guest.

Room Rates:
$109 Studio King
$122 Double Queen

For more information, please visit: fallschurch.house.hyatt.com.